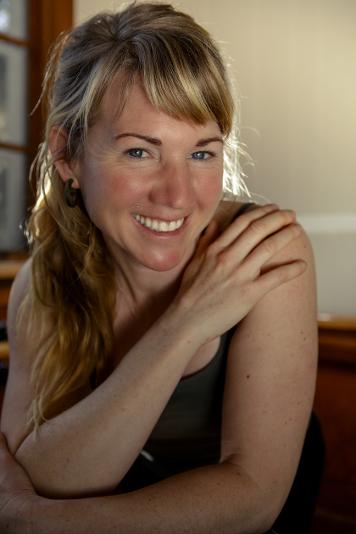 I began practicing Yoga in 1999 while I was living In Calgary and working on my BFA at the Alberta College of Art and Design. Since self inquiry was an integral part of making and completing creative projects, I let go of my pre-conceptions of Yoga and took some classes to see what all the hype was about - I was hooked!

I have always been an active person, involving myself in some team sports but more attracted to solitary sports like Tae Kwon Do and outdoor sports like hiking, running, rock climbing, snow boarding, skateboarding, and anything else that involves adrenaline. Yoga was an excellent complement to these sports for cross-training purposes and helped me recover faster from various injuries giving me added strength and control.

Seeing the benefits of Yoga I became inspired to share the practice with those around me and deepen my own practice. In the summer of 2007 I took the 250 hr Yoga Teacher Training Course at the Yoga Passage in Calgary with Tanis Fishman, Tracy Mann and Florin Voinescu. Since I began teaching I've completed over 500 hrs attending inspiring workshops with teachers from across the world including ones with David Williams, Swami Maheshananda, Judith Lasater, Nikki Doane, and Eoin Finn. As well, I've completed additional training with AFLCA and Fusion Fitness courses presented by Helen Vanderburg, and Pre and Postnatal Teacher Training Course with Amy Birdman. These courses balance my training in Eastern concepts with current North American theory and practice of fitness and nutrition.

Yoga allows me to continue an important relationship with my body and my mind, and let go of negativity and bad habits that do not serve to make me a better person. Over the years I've observed my daily Yoga practice as a metaphor or a creative expression of who I want to be in the world.
Ultimately, Yoga to me means balance. Yoga subtly teaches you how you can act or, conversely, not react to all kinds of barriers in your mind and in your body. Taking time for activity and rest, and taking part in building community.
Currently I teach variety of styles of Yoga including Vinyasa Core Flow, Pilates/Yoga Flow, Beginner to Advanced Hatha. Pre and Postnatal Yoga.