New To Yoga?
BOGO SALE
Come to 1 class and get the 2nd one FREE!
or 2 for 1- Bring a Friend for FREE!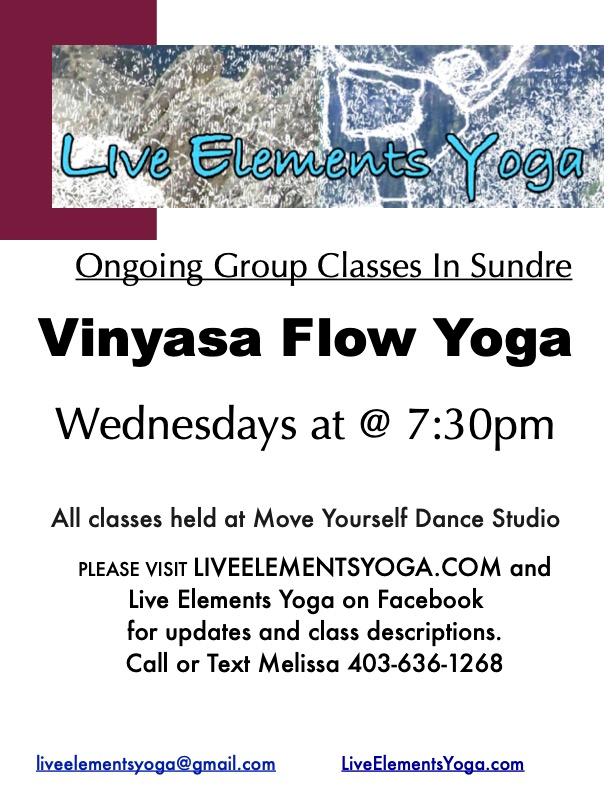 Sundre Schedule
Effective Jan.1.2023
Wednesdays 7:30 pm and Wednesdays (all levels+advanced)
In- Person Group Class held at Move Yourself Dance Studio, Sundre.
I HAVE MOVED!
Classes will now be held out of Move Yourself Dance Studio!
Space is Limited for Group Classes please pre-book your spot by
calling or texting me at 403-636-1268
Please arrive to class at least 5-10 mins prior to start time. Class will start promptly.
Sorry no late-comers, doors will be locked once class begins.
You can buy a 10 punch card for $115.00 incl. GST.
Drop in rates will remain at $13.
Payment methods are cash, cheque, or E-transfer.
Unless otherwise stated on this page or posted at studio, Monday classes that are on
Statuary Holidays will still be held at the normal time.

*************************************************************

Move Yourself Dance Studio is located in a Heritage building beside the Sundre Museum
See the Map Below
Class Descriptions: **MOST CLASSES RUN FOR ABOUT 75 MINS.**
** note: classes are all levels. ALL poses and sequences can be modified to be harder or easier to suit your specific energy levels. Ultimately yoga is a personal practice, therefore it is up to the practitioner to find her/ his own edge. Stepping mindfully out of a comfort zone not only opens the body, but the mind as well:)
Hatha: This 60 minute class is a low-impact slow and steady class great for all levels. There will be a great emphasis on breathwork and connecting your breath to your movements. Slow enough for beginners yet challenging enough for advanced as we will hold postures longer to build strength and enhance your flexibility and balance.
Vinyasa Flow- Vinyasa style class with a wide variety of breath-linked postures from the primary and secondary series from Ashtanga yoga. Every class offers a different and unique blend of breath-based postures that help participants gain greater strength, balance for the entire body and mind. This invigorating practice builds strength, flexibility and heat the body, and calms and cools the mind.
H.I.I.T Core Yoga- This class blends High Intensity Interval Training with Yoga. 1/2 hr to 40 mins of timed interval exercise that'll challenge your mind, muscles and lungs, then a series of yoga poses to stretch you out and cool you down afterward.

Every week is a different set of exercises so you'll never get bored and you'll be surprised how fast an hour can flyby!
class will end traditionally with slow stretching and and well earned savasana.
Yoga Basics New To yoga? This class offers a great introduction to the basic poses of a Hatha class. A variety of props and sometimes chairs will be used during the class as we explore range of joint motion and ease dormant muscles into a brand new awakening! This class is also great for persons recovering from new or old injuries. The slow pace will help you find and reconnect to your own breath pattern so that you feel more comfortable and relaxed. We will work on strengthening and stretching the core and the major muscles in the legs and arms to keep you going strong and balanced in your daily activities.
TRI-Yoga Inspired by the flow of a Triathalon, this class breaks down the muscles specific to swimming, cycling and running in that order. The poses and sequences will both strengthen and lengthen your muscles, give you a greater range of motion in your major joints while building muscle around them for added stability while you rev up your training. The added bonus : mindful movement and focus for the big race!

Yoga 4 Winter Sports NEW! This class targets muscles specifically used in skiing,
snowboarding, hockey etc. Half of the class focuses on conditioning and balancing the
muscles in the legs and core. The last half of the class focuses on dynamic and gentle
stretching, breath and muscle relaxation through mental awareness.
Hot Yoga Foundation Flow level 1-2

Perfect for All levels -Held in a heated room. Based on the primary series of
Ashtanga yoga, this class breaks down the standing, and sitting postures for longer holds and uses variations of sun salutation to connect one posture to the next. Emphasis is placed of breath awareness and mental focus to "tune 'into your own body's mechanics. Benefits of a regular practice include improved muscle tone, clearer skin(through perspiration & increased oxygen to
the skin), a better sleep, and overall an increased awareness of one's own
body including better dietary habits and balance of work and play!

Please call Melissa @ 403-636-1268 for more info.